RDE Systems has been serving the HIV/AIDS community for over eight years with innovative, web-based tools and services. The RDE team considers it an honor to help those who help others and has volunteered alongside outreach workers in the field, and beside the desk of government officials, health planners, and medical care providers. As a special thanks for giving, RDE Systems is providing this free Online Resource Guide to Ryan White Grantees and conference participants.
Check out these valuable, cost-effective web-based tools and resources that have dramatically improved the role of a grantee, provider, health planner and client.
e2 Web-Based Client Level Data System
Super User-Friendly
Visual and Interactive RSR
HAB Performance Measures
Alerts and Reminders Module
Contracts Management and Billing
PDSA Tools for Quality Improvement
NQC Cross Part Collaborative
Data Quality Tools
Electronic Health Information Exchange
Web-based:no software to install or upgrade!
CDC XPEMS Data Transfer!
HOPWA One Click APR/CAPER
Amazing customer support.
Initiatives have helped improve process measures, health outcomes and care.
e2 Community Platform Web-Based Solutions for Client Feedback, Health Planning, Care Coordinations, and Stakeholder Engagement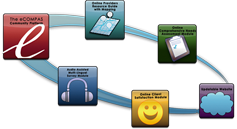 Eliminated over 115,000 pages of paper and all of the associated cost, time and errors!
Saved over 1,000 hours staff time in only a few months!